Click on any image to enlarge.
BLICKS ARE FUN FOR EVERYONE !!!!!
Click any image to enlarge it.
Blickensderfer 5 Typewriter Shipping Crate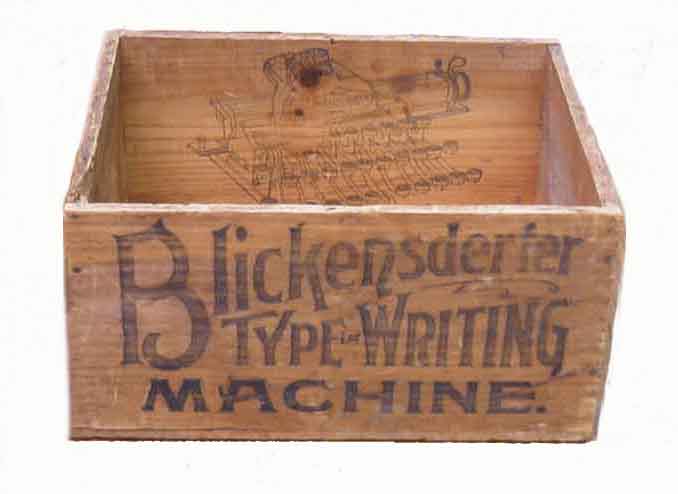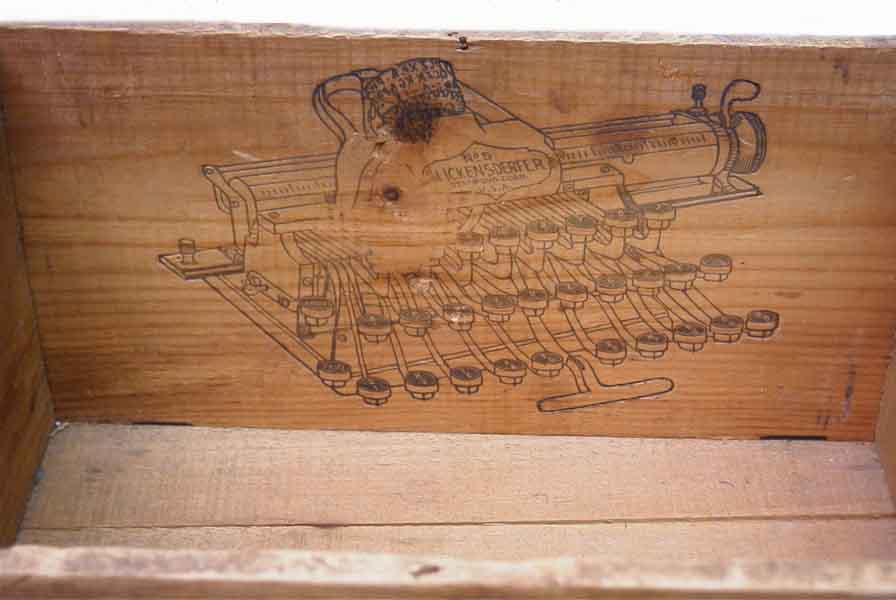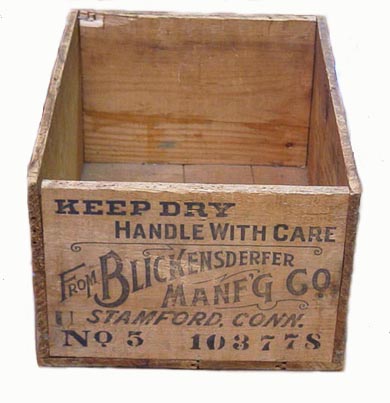 The actual image of the machine is branded into the boards. You can read the lettering on the keytops. Circa 1905.

Roberts 90 Typewriter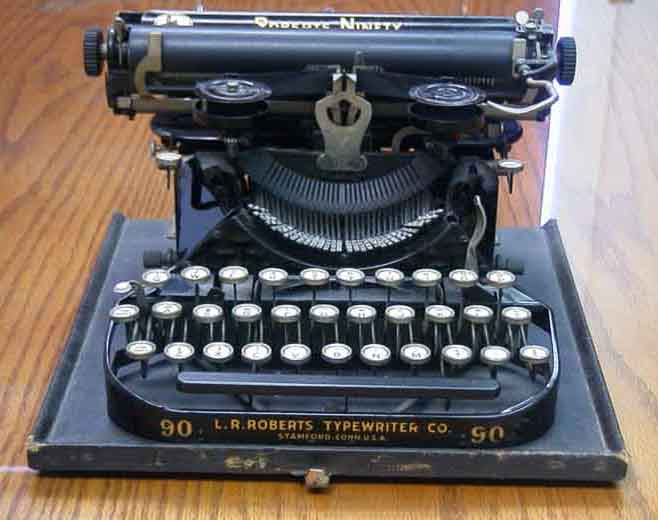 Easily removable typebasket (successor to the rare Blick 90). Very few were made. Circa 1922.
"MOBY BLICK"
White Blickensderfer #5 Typewriter, sn 1904 W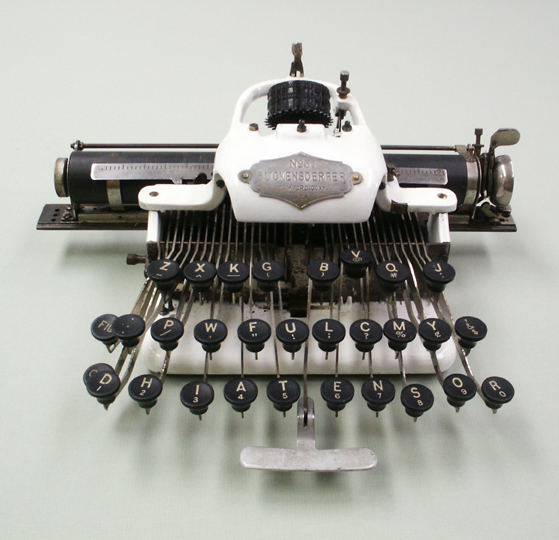 Credit for the name,"MOBY BLICK", goes to my clever friend, Peter Weil, famous typewriter collector and historian.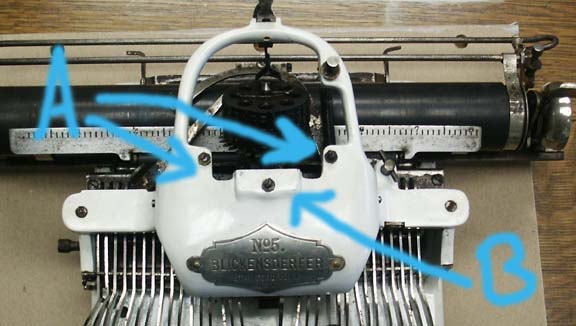 Features which help date this machine to 1904.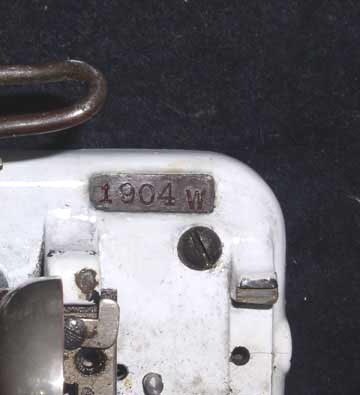 Unusual serial number 1904 W.
One of a kind color variation with a special serial number. This may be a specially manufactured machine for presentation to a dignitary or for display at a special event. My favorite THEORY is the 1904 Louisiana Purchase Centennial Exposition. (St. Louis World's Fair) No other event is as significant for the time period.
The style of the machine does not match the style of a machine in the 1904 serial number range. It does match the style of machine produced post 70,000 which coincides with the year 1904. No other Blickensderfer is known with a suffix on the serial number.

Blickensderfer Visible Typewriter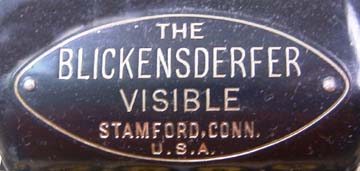 Variation of the Home Blickensderfer.

SERVICE BLICK TYPEWRITER, LONDON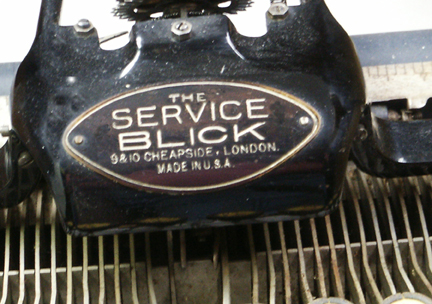 Variation of the Home Blickensderfer.
HOME BLICK TYPEWRITER - LONDON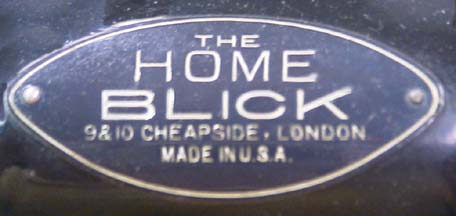 Variation of the Home Blickensderfer.
Blickensderfer 5 Typewriter / Blickensderfer 7 Typewriter
Newcastle on Tyne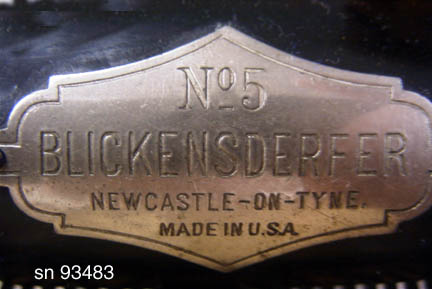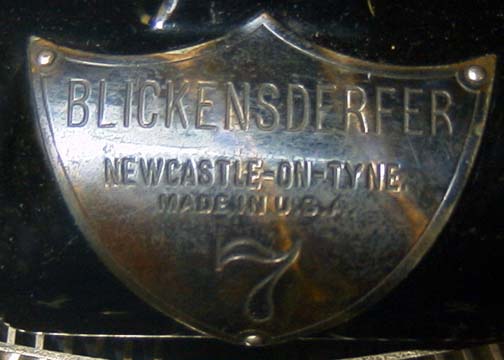 BLICK Featherweight Typewriter- Stamford
BLICK Featherweight - LONDON
Blickensderfer Featherweight - LONDON